We've established that the less ingredients you include in a dish, the lower the carbohydrates would be. With that in mind, and in the given situation, we have been consuming meat alternately with these 3 Filipino soup bases. It's anyway spring where we are, but sometimes it still feels like winter (which is sadly dragging a bit on). With less trips to the grocer
y stores, it's not easy to cook dishes with all the add-ons, so these recipes are good as is, but we will also include the usual ingredients list.
Nilaga (Slow-cooked Beef Soup)
Usually cooked with beef and bone marrow or beef shank. Using our bone broth recipe, this dish would automatically be on the menu for the day when we stock bone broth (previous post). After putting broth in jars, there will be enough left for beef soup. We usually put in the marrowbones  from making the broth as well.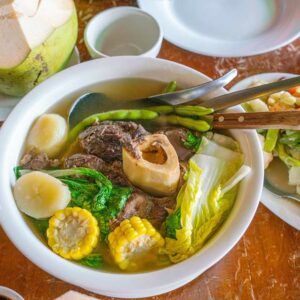 Nilagang Baka and Bulalo (Beef and Marrowbone Soup)
Ingredients  
3 cups water
2 cups bone broth
1/2 kilo beef shanks
1 head onion chopped
1 tsp peppercorns whole
1 pack beef bouillon (optional)
2 tbsp fish sauce
3 budles pak choi (or 1 whole napa cabbage) leaves separated
Add-ons
2 pieces sweet corn cut in half
2 potatoes cubed
2 saba (plaintain) cut in half
Instructions 
Put water, shanks, and peppercorns (to tenderize meat) in your pressure cooker. Cook for 1 hour on medium heat with the lid affixed.

Once ok to remove the lid, do so and transfer the broth to a stockpot while straining it to remove scum, bones, and peppercorns.

Put the beef shank in the stockpot with broth. Also put in onion, homemade broth and fish sauce. If you don't have homemade broth, use beef bouillion. Simmer to a boil.

If you got the other ingredients like corn, potatoes, and plaintain, put them into the pot. Simmer until the plantains are tender. Skip this step if you don't have them. Put the pak choi and turn off stove.

Season with salt and pepper according to taste.
Variations
You can include pak choi or napa cabbage to keep this dish lowcarb. Putting in potatoes, plaintain and corn will increase carbohydrate content so keep those out.
Nilagang Baboy (pork)
Nilaga can be cooked with pork meat. It takes less cooking time  as pork are easier to cook than beef. For the pork version, saute the onions along with the pork first before pouring in water, this method draws out the flavor of the pork. Use pork bouillon for the flavor. You can replace the plantain with squash when cooking nilagang baboy.
Nilagang Manok (chicken)
For the chicken version, use chicken bouillon. You can cook this the same as the beef method starting from number 3. You can remove the peppercorns as well.
Sinigang (Sour soup)
Usually cooked with pork but we prefer prawns. Sinigang is much different from the more popular Thai soup, Tom Yum although both tagged as sour soup. Sinigang could also be spicy per preference. This could be achieved by mashing chili peppers into fish sauce and added into the soup.
Sinigang's sour taste comes from tamarind, but it could also be from guava, miso, and calamondin. Making the base is ideal if from fresh fruits of these three mentioned, but there are ready-made powder mix of their flavors.
Sinigang
Ingredients  
1/2 kilo prawns (with skin and head) )
1 tomato sliced
1 small onion thinly sliced
4 cups water
1 pack tamarind sinigang mix / or 1 cup tamarind juice
2 long green peppers
2 tbsp fish sauce
1 bundle kangkong (water spinach) (cut to 3 inches)
Add-ons
1 radish sliced diagonally
1 bundle sitaw (long green beans) (cut to three inches)
5 fingers okra cut to half
Instructions 
In a stockpot, boil water. Add tomatoes, onions, and radish (if you have them). Simmer for 5 minutes.

Add green peppers, sinigang mix, okra, and green beans. Put in the prawns. Cook for 5 minutes or until the vegetables and prawns are cooked through.

Season the stock with fish sauce and adjust according to your preference.

Add water spinach and turn off the stove. Cooking it off with the heat.
Variations
Sinigang na Baboy
Sinigang na Baka
Sinigang na  Salmon
Seafood Sinigang
Tinola (Chicken in Fish Sauce and Ginger Broth)
Usually cooked with chicken. Tinola is next to the most often cooked soup at home. First is still from chicken, the regular soup that's good for colds.
Since the usual chayote or green papaya is not easily available in our region, we have kohlrabi as substitute. Kohlrabi or german tulip, not a tulip per se, is more related to cauliflower and broccoli. Its bulb has the same texture of a chayote.
Another unusual add-on that I don't usually find around here is moringa leaves and pepper leaves, thus, we use spinach instead.
3 Filipino Soup Bases
Tinolang Manok
Ingredients  
1 whole chicken (cut to pieces)
1 piece onion (peeled, sliced thinly)
1 clove garlic (peeled, minced)
2 small piece ginger (peeled, sliced thinly)
1 tsp salt
1 tsp pepper
2 tbsp fish sauce
5 cups water
1 handful spinach leaves
Add-ons
1 cup chayote / green papaya / kohlrabi (cut up into wedges)
| | |
| --- | --- |
| Pin This! 3 Filipino Soup Bases To Cook Alternately (Lowcarb Version) | Pin This! 3 Filipino Soup Bases To Cook Alternately (Lowcarb Version) |